Mental health first aid' course aimed at helping veterans
By SHAWNE K. WICKHAM New Hampshire Sunday News
A few days before Veterans Day, the Mental Health Center of Greater Manchester hosted a "mental health first aid" course, aimed at helping veterans who are struggling with post-traumatic stress disorder and other mental illnesses.
Then came news that the gunman who fatally shot 12 people and wounded many others at a California bar last Wednesday night was a 28-year-old Marine Corps veteran. News reports said the former Marine had served in Afghanistan and may have been suffering from PTSD.
And suddenly, the topic was no longer academic; it was terribly, painfully, real.
Instructors Rik Cornell, a veteran counselor and a vice president at MHCGM, and Mark Boegel, a Marine Corps veteran and an intake clinician at the center, said war and the military experience can change people. And while many warriors develop resilience, for others there can be lingering trauma that can lead to mental health problems, including substance use disorders.
"Warriors struggle," Boegel said. "The only solution is when we figure out how to live in peace."
Cornell said while civilians today are more supportive of service members than in past eras, they may not understand what a military family is going through. "I think it's nice to thank a soldier, a warrior," said Cornell. "But I think it's more important to ask them how they're doing."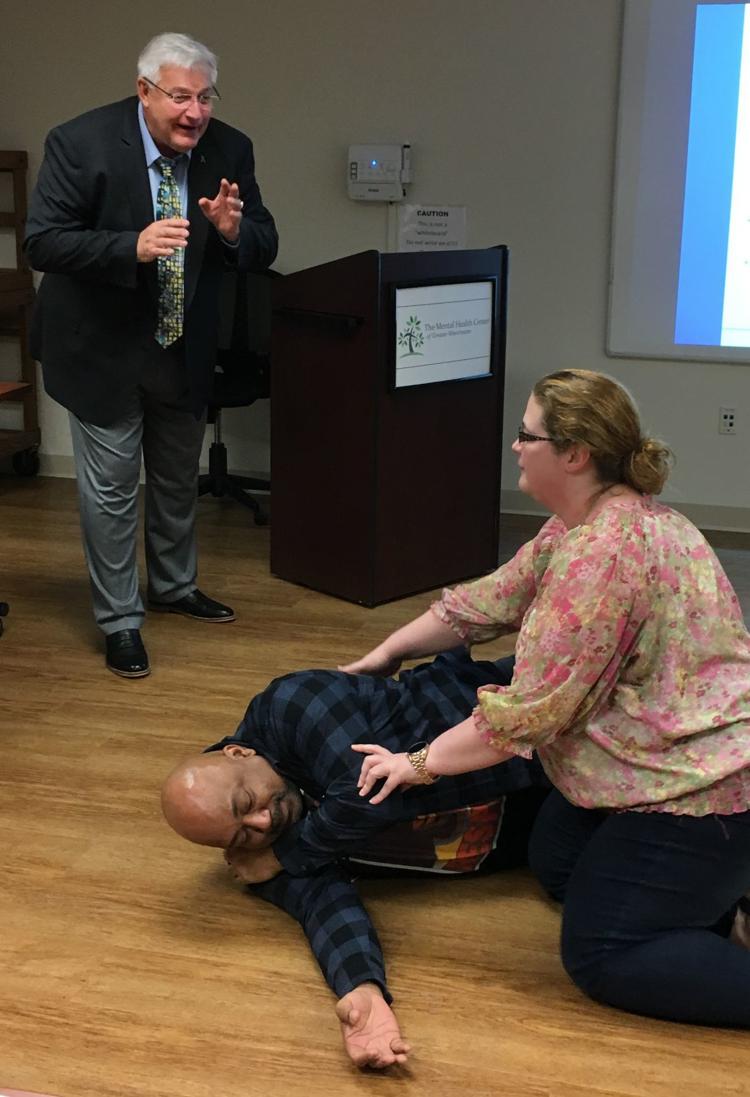 Over the two-day, eight-hour course, the two offered a primer on how to recognize signs and symptoms of mental illnesses such as depression, anxiety, psychosis, schizophrenia, bipolar disorder and substance use disorder, and how to offer help in a compassionate, non-judgmental way.
The curriculum, which also can be tailored to other groups such as youth, first responders or seniors, was developed in Australia and adopted by clinicians here. Advocates want to make this kind of first aid as commonplace as CPR training.
The program uses a stuffed koala named "ALGEE" to remind individuals how to respond to someone having a mental health crisis:
• Assess for risk of suicide or harm;
• Listen non-judgmentally;
• Give reassurance and information;
• Encourage appropriate professional help (that can be from primary care doctors, psychiatrists, social workers, drug and alcohol counselors and peer support specialists); and
• Encourage self-help and other support strategies.
The good news, Cornell said, is that treatment works. There are mental illnesses from which many people can completely recover with treatment, he said, and for others, "they have to learn to cope with those illnesses in a way that allows them … to live the life they want to live to the best of their ability."
Every mental health center in New Hampshire has a military liaison who can help other clinicians better understand military culture and serve their clients with military backgrounds. Boegel, who fills that role in Manchester, said he's proud that New Hampshire was the first in the nation to create such a position.
Boegel said Reservists can have a more difficult time readjusting to civilian life than active duty troops who return home to bases and support services, or National Guardsmen, who come back to their families and communities.
And he said children of veterans can also be affected by their parents' experiences. "And they might not understand why they're feeling like they're feeling," he said.
Cornell said he's seen that in children whose parents were deployed. "All of a sudden, they were getting in trouble in school."
And the effects can be long-lasting, he said, triggered by the holidays or other events. "All of a sudden, Thanksgiving hits and those memories come back," he said. "Our brain is the massive library of life. Nothing ever really leaves it. It's all there."
Early intervention — "that moment when somebody's noticing that something's wrong" — is key, Cornell said.
The course also addressed the high rates of suicide among those who have served — even those who were not in combat.
Nowadays, most military members do not die in battle, Boegel said. "Suicides and accidents kill more warriors since 9/11 than combat," he said.
He cited Army statistics that show 21 percent of suicides in 2009 were by soldiers with multiple deployments. But 36 percent had never deployed and 43 percent had deployed only once. Another study showed that more than 50 percent of soldiers in the National Guard who died by suicide in 2010 had never deployed.   And that means that we need to pay more attention to the warning signs of suicide among those who served, he said. They include: seeking access to means; talking, writing or posting on social media; feeling hopeless, worthless or a lack of purpose; acting recklessly or engaging in risky activities; increased alcohol or drug use; withdrawing from family, friends or society; and dramatic changes in mood.
Cornell stressed the importance of asking someone directly whether he is thinking of killing himself. And he said, "If it's a yes, then ask whether the person has a plan. … You want to know how much time you have to help this person."
Heather Tenney, who runs a home care agency in Tuftonboro, attended the first-aid course with two of her employees, Wendy Clarke and Melissa Nadeau. "Going into people's homes, we're running into things we never expected to run into," including many families struggling with mental illness, Tenney said.
Also in the group was Joella Stossel of Manchester, a service coordinator for Granite State Independent Living. Some of her clients are veterans; so is her fiance. "So I thought it'd be good for my professional and personal life," she said.
For Boegel, his professional work turned personal on Sept. 15 when his brother-in-law, a Navy veteran, died by suicide after struggling with mental illness for years. "As Americans, we don't worry about the right things too often, and suicide death is something we should be worried about," he said.
People with serious mental illnesses are more likely to become victims of violence than perpetrators, Boegel said.
Likewise, Cornell said, having PTSD doesn't mean someone is going to do something bad. "And most of the time when they do, they do so because they haven't gotten treatment or haven't gotten the help they need," he said.
With the treatments now available for PTSD, he said, "They can go on and live their life in recovery and do just fine." They may still have bad days or flashbacks, he said. "But they're not going to spend the rest of their life in secrecy, hiding this and letting this build up inside them … until it explodes."
Boegel said he wishes someone had told the California gunman: "We care about you. We want you to get the help that you deserve."
It's not a handout, and it's not a sign of weakness, he said. "We're offering what you deserve from the country that sent you to war."
In his view, "When people send their young men and women to war and they get broken, we have an obligation to fix them."
There is help available, and it can make a difference, Boegel said. "And if you believe in prayer, then you also believe that you've got to be the answer to somebody else's prayers."
"That's why I do what I do," he said. "I want to be the answer to somebody else's prayers."
For confidential 24/7 help: Contact the National Veterans Crisis Line at 1-800-273-8255 and press 1; or www.veteranscrisisline.net.